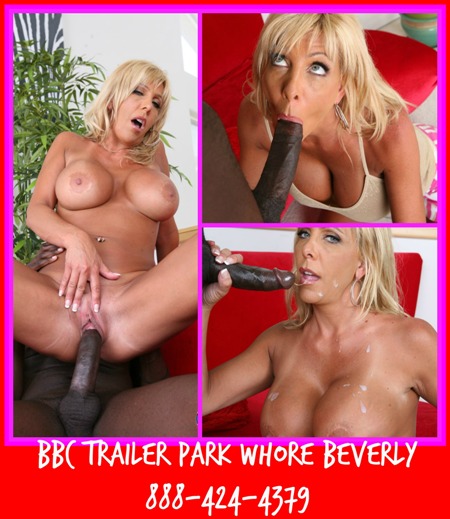 My friend Bobbie and I are what you call black cock loving whores. We are not exclusively BBC bitches, because we are cum dumps above anything else. So the color of one's schlong doesn't matter as much as its content-yummy cum. Bobbie told me one of her truck driving BBC's was looking for a cougar type hooker for a gangbang. She knew I was perfect for the job. I don't always take money for sex, but if it's offered up, I'm not saying no. That's drug money. Guys often like to pay for sex because it assures them they get what they want. What they don't understand is that white trash whores like us, do anything anyway. The nastier the better.

Bobbie and I arrived at his place, collected our money. We were owned for the next 4 hours. Her black daddy needed to test me out first. Make sure I was a good whore that he didn't need to break first. I've been used by black men since I was knee high. My cunt and ass can handle sizeable dark meat. I showed him I could deep throat a huge cock, take it in the ass, and handle a jet stream of cum. I think even Bobbie was impressed I knew my way around a black dick. Before I could wipe the jizz from my chin, there were like 50 black dudes circling us. Two dirty white whores to service 50 black dudes; yeah we were gonna earn that money.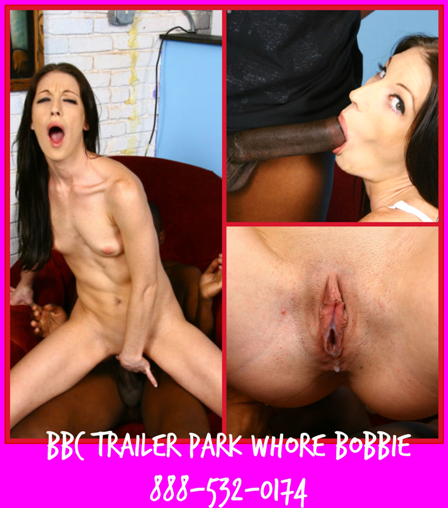 Started out with them gangbanging our mouths. Sometimes as many as 8 huge ass dark cocks were crammed down our throats at once. We were bug eyed, eyes watering, gagging, cum guzzling dirty whores for these dudes. Bobbie and I both like rough nasty very messy fucking. I could have puked up cum if I had not been a seasoned pro. My mouth was over flowing with cum, when one of the guys insisted we snowball each other. So much spunk we looked like albino lot lizards. After some cum swapping the real gang bang began. Cock after cock shoved in our asses and cunts. Sloppy seconds was an understatement. Buckets of cum poured out our fuck holes. One of the things I love about black guys is how aggressive they get. They were choking Bobbie and I with their hands, slapping our faces with their cocks, double stuffing our asses, pulling our hair, all while hardcore fucking us. They called us trailer park whores, cum guzzling gutter sluts, slaves, white trash, skanks, dirty hos….
After four hours of being used, we weighed about an extra 20 lbs in cum. Our asses and pussies were swollen and sore. Bobbie puked up cum in my car. Guess she is not the seasoned cum guzzler I am. But we made good money for doing what we enjoy. The life of trailer park whores is never dull.