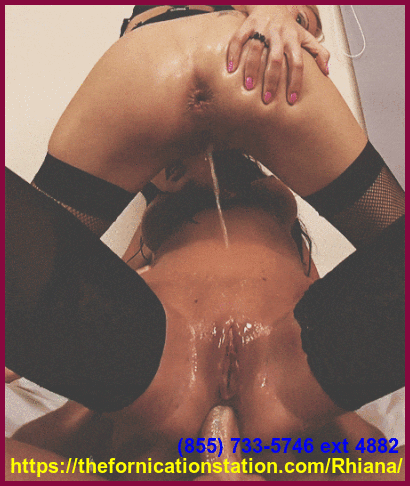 I love pissing on my bitch Molly whenever we have some hot orgy sex with a few friends. We are party sluts and work together at the strip club. Our hours align pretty well with one another so it is so much fun when she is ready to party and get fucked with me. We both get drunk and high and love taking cock up the shitter and getting pissed on; she is just like me and I love it. My favorite thing is watching the bitch get her shitter plowed out as I piss all over like the nasty whore she is. I have seen this slut take so much cock, cum an piss; she is better than me sometimes.
Look at that big, thick and fat cock slamming inside her slutty little ass hole as she bounces her sweet body up and down. She is designed to take cock and get pissed on. It is so much fun having a guy degrade us together while I degrade her too. It's the perfect little mistress moment for me since I am usually always degraded. When another cunt is in the situation with me; I love to use her like a piece of meat too. Molly is a little dominant whore too sometimes; she loves pissing on me and using me after she gets fucked like a rag doll fuck whore.
She wanted some filthy sex so as a friend I made sure to set something hot up after work so we can be dirty bitches together. He busted his hot load up her ass hole like 3 or 4 times and that bitch wanted more. I made some more calls to get some more cocks over here for us so we had more cum, piss and spit for the both of us. We went at it all night long; our holes were so fucking sore we couldn't even cum anymore. At one point we didn't even feel it when we were getting plowed up. Between the drugs, alcohol and the amount of cock we were getting; we literally just got numb.
We were laying there as they each took turns on us and felt nothing; it was easier to just let them have it. I think I even saw that whore fall asleep a few times as she got her holes rammed out. I had to slap her to wake her up and she said "It's okay, they can keep going while I shut my eyes". The boys loved that we were barely conscious because it just made us look and feel even trashier than we already are. The best way to be the ultimate fuck slut is by getting fucked up and never saying NO! Trust me, all the men love whores who never say no. Isn't that right baby? I am sure your cock is leaking so much pre-cum now just thinking about it.