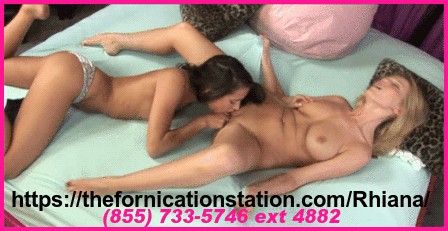 I can't help myself from bucking my hips up toward your face when you play with me like that Amanda! She giggled as she continued to lick my clit as she finger fucked my hot wet hole. We have to be quiet before your dad hears us she she said to me. I whispered under my moans "Bitch, my pervy ass dad would be standing in the corner wanking off while he watched this trust me". She laughed and said "Wow, what a pig; but I kinda like that because it explains why you are such a slut".
Amanda is my brothers girlfriend and we are pretty close as you can see. We always go out and get drunk together until we are shitfaced lol. She always ends up making out with me or something every time we get back to my house. My brother was asleep when we got home so we went right up into my room and immediately she tore off my clothes. We made out and dry humped each other for a bit but she was such a horny whore it was not enough.
She giggled in my ear and said "Come on Rhiana, your brother is sleeping he will never know; just let me eat that sweet pussy and finger you until you squirt on my face baby". She was so hot and bothered it drove me fucking crazy. I tore off my panties and laid down on my back. I told her to get between my legs as I spread them wide for her and told her to make me cum like a good girl. She was so happy I was letting her have her fun with me; she was so good at eating and fingering my wet hole I squirted all over her face.
I licked her face clean and told her "Now it's your turn bitch". She smiled and said "I can't wait, your brother is so bad at eating my pussy; show me who is the better sibling baby". I looked at her and laughed and said "No worries you sweet whore, I will make sure you cum whenever you need since my brother sucks".  She moaned and groaned like a bitch in heat!