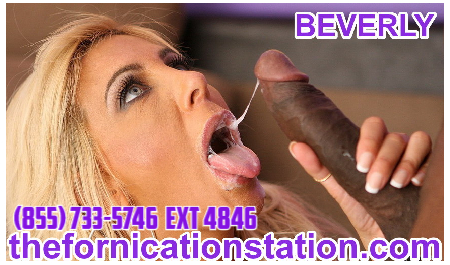 This big dick sucker looks for the biggest cocks every day. I enjoy challenging myself. Big cocks cannot suck themselves. However, a blond whore like me can suck those monster cocks. Last night, I trolled for the biggest black cock I could find. Surprisingly, the biggest cock knocked on my trailer park door. I came home from the truck stop disappointed that I could not find a big black cock to fill my mouth and my belly. Good thing I answered the door when I heard the knock.
I'd been drinking and doing lines. No way I was ready for bed yet. I answered the door naked. Standing before me was a tall black man. His car broke down right outside the trailer park entrance. My trailer still had a light on, so he knocked at mine first. This was fate. My draw dropped looking at his fine physique. He checked out this blonde fucking whore too. I guessed he was in his early 30s. He was 43. Honestly, I thought he was lying. But I was not about to argue age with a handsome black man.
BBC Whore and Big Cock Sucker
I invited him inside and let him use my phone to call AAA. Since he was somewhere safe, his call did not get top priority. No problem for me. How ever would we pass the time? You guessed right. I seduced him, which was very easy to do. Porn music played in my head. I heard Snoop Dogg singing "Sexual Seduction," as I unzipped this black stud's pants.
A fucking anaconda cock rolled out of his pants that was so big, it had its own zip code. My huge cock found me. Luckily, I was just drunk and high enough not to feel the discomfort of a monster cock in my fuck holes. It takes a lot to push my limits. I am a black cock loving trailer trash whore. I feel it today. But in the moment, I felt amazing. It was like I slayed a beast of a cock. I know last night was a fluke. But I do wish a hung black man would just knock on my door every night. Would make life much easier.