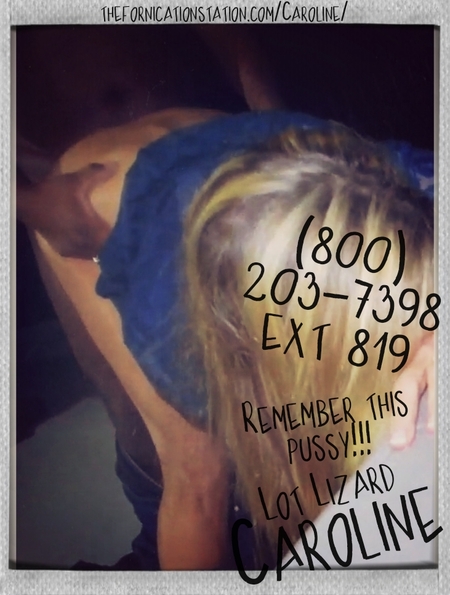 I was fucking a sleazy trailer park john last night when I got the SOS text that my all my hot holes were needed for some lot lizard sex.  Since I'm the hottest prozzie on the lot, I wasted no time and made my jolly john jizz in a hurry, blew a fat line of coke with him (and a couple more without him), tossed on some ripped fishnets, hooker heels and a dress that's so damn small that it may as well not exist, took one more bump of coke then I hoofed it over.  I left the hot cum in my cunt because those trashy transient fucks love it when I show up with thick loads of cock cream spilling out of my pussy and tight little asshole. 
Being a big dick sucker, a couple of these horny truckers know to call me for the best blowjob around, and Big Mack is no exception.  I set myself up in the lot on my knees with my mouth open and it was just a few seconds before I had his pitch black ball bat of a cock shoved deep into my gob.  He loves to make me choke and gag until I puke up all the contents of my empty stomach.  He says the way my eyes get all bloodshot and bugged out reminds him of his step daughter then calls me Amanda over and over.  I told him to just shut up and fuck me.  He laughed and bent me over, jamming his humongous black hog into my cum caked cunt so hard that it actually hurt.  Big Mack is one of the only guys I know who can do that to me, it's one of the reasons I look forward to him coming around.  That and his fat stacks of cash, of course. 
My cries must have been a mating call for pervs because as he fucked the ever loving shit out of me, a line formed full of musky meat ready to splurt their spunk wherever I let them.  One guy kept taking pictures of me getting railed, telling me "Smile, you cum guzzling slut."  He sure was surprised when I looked up at him with the biggest shit eating grin on my face and said "Cheeeese!"  I took on the whole lot with ease, scored some more blow and took my happy, cream coated ass home to get snow blinded and wait for another trick to come along.