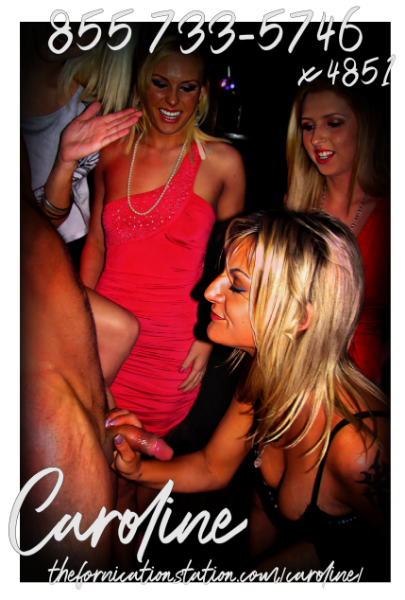 When a guy orders up a bunch of bitches to fuck him reverse gangbang whore style, it's basically an excuse for all of us trailer park sluts to get out and party with each other.  It's like a paid working vacation, especially if he rents our rotten holes to escort him around for a couple of days.  There's not a better way for a whore to earn her money than by ganging up on a guy with her prostitute pals and using his dick however, wherever and whenever they want.
One of my clients wanted me and four of my freakiest foxes to hang all over him and make him feel like some sort of high rolling whore hound for the weekend.  He figured maybe it would get him more attention from regular women.  Me and my skanky scags usually have to stroke egos just as much as we have to stroke cocks, teaming up and doing it together to help a client is no sweat.  With five fun fuck loving sperm suckers at his beck and call, we kept him more than occupied for the entire time he had us.
He wanted to go to the club and show us off to all of the bitches there who don't usually give him the time of day.  We knew exactly how to handle it and had him stripped out of his clothes before the third bottle of champagne showed up.  With five hot chicks hanging off of his rock hard rod, the other girls in the place couldn't help but to take notice of his extra nice package.  We took turns jerking and blowing him until a couple of the random club girls came over and joined in on the fun.
See what I mean?  Once the regular girls took notice of our trick, we were nothing more than five sexy prostitutes who were paid to watch some people fuck in a night club.  Of course we had an after party at his place and several other slutty club chicks hung out for the entire weekend with us.  Sure, we had to let him bang us as much as he wanted but it wasn't that much considering all of the other slits he had at his fingertips.  All of us made sure he got plenty of pussy and we got plenty of prick!  He hatched a pretty good plan, not gonna lie.  Happy he used me and my cum chugging crew to help him get it done!