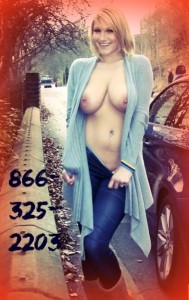 I was on my way to class and was running late again when my tire blew out. That is all I needed! To make matters worse, I spilled my scalding hot coffee all over my chest! I heard that when you get burned like that, the first thing you do is remove the material, so I took of my burning wet t-shirt and then called the tow truck company.
The driver was super nice! He said he had a first aid kit in his truck and that there was probably some burn cream in there. So I sat in the truck and rubbed the cream on my tits. It stung like hell and the cream melted as soon as it touched my skin.
He was watching me the whole time as he asked me about my insurance. I told him that I did not have any so he asked if I was going to be paying with a credit card. Of course my parents had cut me off so I didn't have one of those either!
He said that there are always ways to work things out and then he took the burn cream and started gently rubbing it on my tits. It felt so much better when he was doing it and I couldn't help but start to get wet!
He leaned in and kissed my neck and that was it! I had to have him! I reached over and and tore open his shirt and then hopped in his lap. I was grinding my hips deep into his lap, just in case he didn't know how bad I wanted him.
He lifted me off him and then slid his pants off. He bent me over the console and started licking my soaked little cunny. It was so amazing I started to cum all over his face! But he didn't stop! He buried his face in my ass and wiped my own cream all over my cheeks. The stubble from his face scratched my cheeks and it turned me on even more!
He knew how bad I wanted that cock. I was sticking my ass in the air like a cat in heat and he was taking his sweet time, teasing me, making me ache for it! I was starting to think he was never going to pound that fuck stick in me! Then suddenly….slam! Oh my God! He filled my cunt up so much, I could almost last the head of his cock coming out of my mouth!
I could feel every inch as he pounded me over and over. He unloaded so much of that creamy nut butter that my pussy squirted it right back at him with every thrust!
I sat up and started playing with the jizz that was drizzling out and licking it off my fingers. He watched as I sucked each one clean..then he told me that he needed cleaning to! Yes! As if he knew I could never get my fill!
I sucked and polished that knob until his dick spit all over my face! Yum!
I cleaned every inch of him and was ready to go again but the poor guy had already given me everything he had! I had to drive the truck back to my house while he regained his strength in the passenger seat. Whimp!
I don't think there is a man alive that could satisfy my cum addiction! But I will keep fucking until I find him!