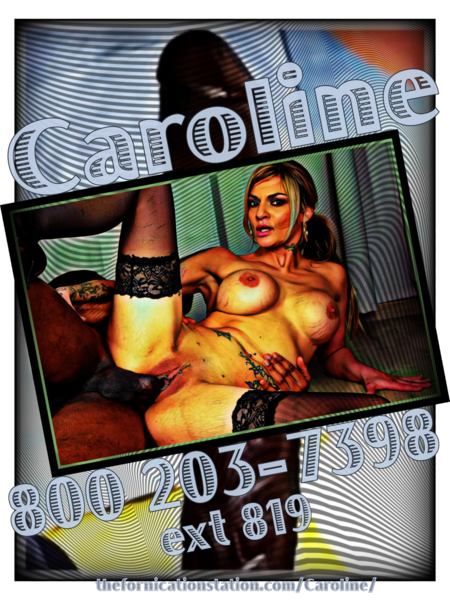 It's always exciting when my phone rings because that means money for mama, but when I get a call from an anaconda packing perv for some hot BBC phone sex my pussy gets so gushy at the mere thought of being stuffed full of that thick, black bone.  Mandingo dick is my absolute favorite so sometimes I offer them a discount if they come over to my trailer and ream the fuck out of my hot tiny holes with their extra large poles.  The cool thing is they always accept the invite even if they're hundreds of miles away.
Yesterday my number one black trucker daddy, Big Mack, rang me up so I could talk him through a whack off session while he was dropping off a load somewhere.  I got him so worked up that the moment his haul was unloaded he headed my way so he could turn out my tempting twat in person, not just in his mind.  He stayed on my sexline the entire drive, getting himself real worked up over the couple hundred mile drive and paying me good money the whole way.
I was standing naked in my doorway when he finally showed up.  He hopped out of his rig with his extra hard ebony hog in hand and a big shit eating grin on his face.  A thick line of pre-cum oozing out of the end of his engorged cock swung around and slapped him as jumped down and strutted my way.  It's cool, I left a snail trail of my own on my couch while I waited for him.  
He wasted no time and threw me on the floor as soon as we got inside.  He pinned me down and plunged his purple headed prick so deep into my pussy that I thought he was going to bust my diaphragm.  And I'm not talking about a contraceptive, I mean my FUCKING DIAPHRAGM!  Each thrust of his massive mahogany wood forced more and more breath out of me until I thought I was going to pass out.  We put a real hurtin' on not just my sloppy wet pussy, but all of my fucking guts.  I'm pretty sure it's the pain that really makes me cum because his midnight man meat makes me wail with sweet agony as I have orgasm after excruciating orgasm all over his big black cock. 
Big Mack delivers a brutal cunny beatdown every time.  I can always count on a bruised cervix and a good amount of tearing whenever he comes around.  But I can also always count on his sweet wads of cum coated cash, too.