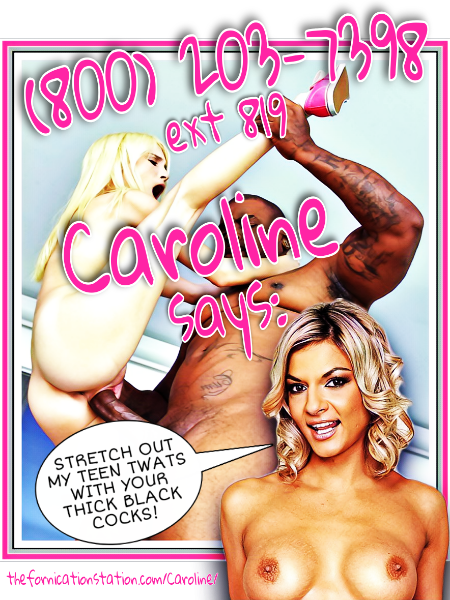 You'd think it'd be easy to get a pack of paid teen sluts fucking every BBC that comes their way.  After all, they are the biggest and best bones out there!  You'd be surprised, though.  Most of my teeny tiny tarts say that massive mahogany man meat hurts their little muffins too much for them to be able to keep working the streets after taking such a powerful pounding.  
Not little elastic Ellen, though.  That blonde bimbo can stretch and bend into any position and take a torquing from the thickest, toughest black anacondas I toss her way.  She makes real good money taking on the towering ebony tools that get turned away by the other girls due to their insurmountable sizes and has a shit ton of fun while she's doing it!
When Ellen spreads her legs real wide, like in the splits stretching all the way out to both sides, her cum cavern opens up and lets her take anything you have to put inside her: banged by a big black cock, jammed full with a giant jet black dildo or crammed to capacity by a clenched, pitch black fist, She can take it all!!!  All that and she's light enough to pick up and throw around!  Plus, the inside of her pink teen pussy has little horizontal ridges running from her G-spot all the way back, like a velvety wet and squishy washboard tucked inside of her cunt.  That bitch is literally ribbed for your pleasure!  
I give little elastic Ellen and her uniquely ridged sugar walls (you really have to feel it to believe it!) to all of the BBC beaver buyers my other whores are too wimpy to work over.  They need some hole stretching practice if they're going to make it in this business.  Until then, acrobatic and fantastic, super light and little elastic Ellen and her perfect prossy pussy will reap all of the benefits and rake in some sweet gash bashing cash!