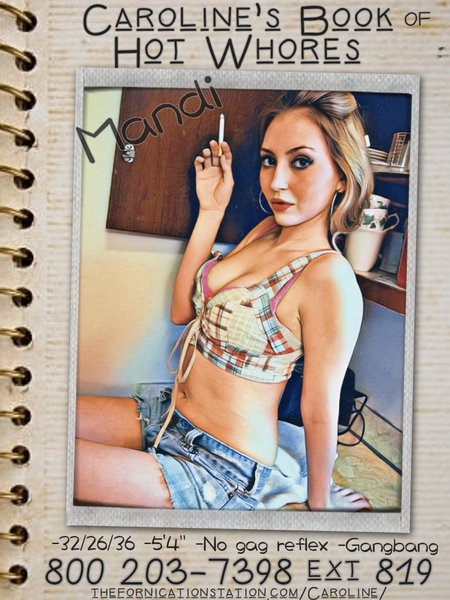 I have so many hookers for hire now that I had to put together a book to keep track of all my hot, horny whores.  It makes it easier for me to show all the pay to play pricks who come by my place for a little dirty action with a hired hole or two all of their obscenely obedient options.  I think it'll make it a little exciting for the jizz packed john's too, like flipping through a catalog of living fuck dolls!
Mandi's slit takes slot one in my salacious selection of sluts for sale.   She's pretty much my best friend but definitely my bottom bitch, I trust her with my life and my money.  I love all of my impish employees but I don't hang out with all of them and definitely would never give them access to the most intimate aspects of my lurid lifestyle.  Mandi is different.  She lives next door, too, so we get to kick it all the time!  If I get a guy or a group who wants some multi-girl or gang bang action, she's with me every time taking every beefy bone and juicy load, getting gaped out right there beside me.
That bang and bolt broad helps me with planning, bookkeeping and pole pleasing.  My deviant, dick draining endeavor wouldn't be anywhere close to the booming business it is today if not for Mandi.  I'm happy as hell to have met her but even happier that I get to whore her ass out.