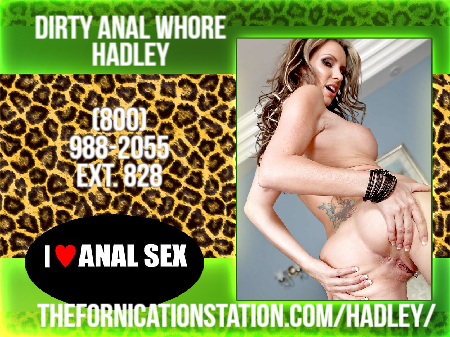 Welcome to your anal cum dumpster paradise. My Name is Hadley and I will show you around. 
Are you a man with a fetish for filling up a whores ass hole like it's an éclair. A Boston cream filled éclair! You need to see your cum oozing right out of a gaped open ass cavity. I know that is you. Some men see tits and get aroused, some men see pussy and get an erection. You see a hot little puckered brown eye and your dick shoots up in a salute. ????‍☠️
A salute for American cornfed asses and trashy white women who give up that ass hole. 
Fuck my fat white girl ass and make these booty cheeks clap! I Clap back! Being on my hands and knees is so amature. I will bend right over and twerk this ass hole all the way down on that fat cock. These striper thighs can work up a sweat as I am full bouncing up and down without ever flopping down in your lap! Fill my ass up baby. Watch it leak out and have a tastes of cummy stripper ass hole! I assure you I will make sure this anal sex whore makes you cum twice!
????