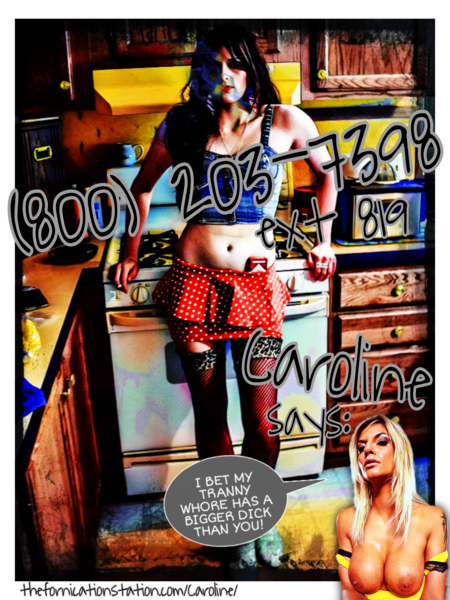 My tranny whore is a pistol packin' mama who absolutely loves cock, hers included!  When she first came to me wanting to join my hoard of haggard whores I asked her if she has any special skills other than being a chick with a dick.  I expected to hear the same old shit every prossy prospect tells me but she went above and beyond and showed me exactly why I needed to hire her.
 That lady-man sat back and threw both of her feet behind her head, revealing her girthy girl cock and huge hairy balls, and started sucking herself right there in front of me.  She didn't strain a bit as she gulped down her own fuck stick, gagging herself with her firehouse of a schlong until I thought her eyes were about to pop out of her fucking face.  It made me so goddamn horny I had to push a few fingers into my sloppy wet pussy.  But nothing could prepare me for what happened next.
With that gigantic hog of hers coated in slimy spit, she bent it back between her legs and shoved it into her own puckered asshole.  The faster that crazy he-bitch plunged her pretty prick in and out of herself the faster I fingered my professional pussy.  She came hard in her ass, erupting with a bassy wail and a cum blast so hard it made her mighty-mighty-meat-missile rocket out of her man-pussy and flop around like an unattended water hose.
I was fucking amazed!  Needless to say, I added her to my lineup of sexy prostitutes right then and there.  We blew a couple of rails as I filled her in on the "Who's who" of the pervs in the trailer park.  She was a little distracted by her own cum leaking out of her ass and squirmed in her chair as she listened.  I told her she could use my bathroom to clean up and she graciously accepted.
As she sauntered down my hall, I realized that I hadn't asked her name so I did so before she disappeared into my shitter.  She turned and looked at me with half a grin and, in her most affected southern belle voice, said "The guys call me Misty Dawn."  She shot me a wink and retreated to my restroom pulling the underwear out of her crack.  She's a real bad bitch, for sure.