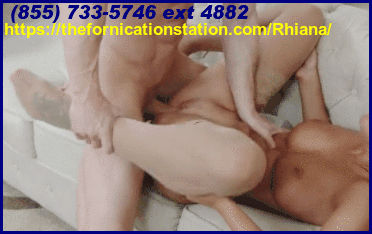 It was just another one of those long nights and I was drunk and horny and I needed some cock in cum. So I called over my friend Tom from my Writing class because I knew he was probably awake and drunk too. He was over at my house within a half hour and I was already naked and waiting for him. He let himself in and I was spread open like a buffet on my couch. I yelled out "Tom, I am in the licing room naked, drunk and horny so take off your clothes and come here". He was naked and ready within seconds. 
He looked at me and said "Rhiana, you are such a hot whore; I love when you call me in the middle of the night for some cock". I giggled and said "Get on top of me and just put in my pussy; I wanna squirt on you before I beg for a creampie". He was stroking his cock and said "I think I want you to beg me this time because you are way too easy and I want to watch you quiver bitch". I looked up at him and got on my knees on the couch and said "Oh Tom, can you pretty please stick that big white cock in my throat then so I can gag on it and show you how bad I want you to fuck me".
Oh that for sure got him going, he walked right over and slipped that cock in my throat and face fucked me until I gagged all over it. He was in a dirty mood and said "Be careful whore, all that gagging is going to make all that alcohol come right up if you aren't careful". I laughed and said "Oh no Tom, I like it way better when I am a drunk mess; if I throw it all up I won't be drunk anymore and that isn't as fun. He slapped my face and said "You are such a dumb bitch; get on your back so I can fuck that nasty hole"!