There is no better holiday experience than spending a Christmas evening curled up by a fireplace with a cock in my mouth and another in my pussy pumping me full of hot cum in both ends. Last year, I had the pleasure. I was invited by this guy I was dating to accompany him to visit his father for the holiday. I obliged because I don't have much family in town so I didn't have plans. When we arrived, I was surprised at how handsome and young his father was; he was a former professional bodybuilder, so he had beautifully sculpted muscles and you could see the contour of his abs through his shirt. My nipples got hard as he smiled at me and introduced himself, I was completely turned on, but did not know where this was going to lead.
After dinner that evening, we were sitting on the couch drinking and playing card games. I just so happened to be sitting between the two of them as we talked and laughed about everything under the sun. All of a sudden, the power went out, and me being the little whore that I am, I made my move. I reached over with both of my hands and began stroking them both through their pants. "What are you doing?" his father exclaimed, but his cock standing at attention told me otherwise. As I continued stroking both of their bulges, my boyfriend started to rub on my titties as he gave his dad his blessing to treat me like the whore I am. I unzipped his father's pants and started jacking his hard, thick cock; at the same time, my boyfriend wasted no time to take his pants all the way off and stick his huge dick in my mouth. His father finally got comfortable with the situation and joined in full force, he started sucking on my titties and rubbing on my clit while I continued getting my throat fucked by his son.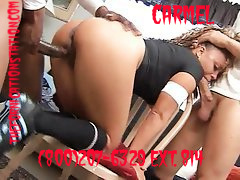 My pussy felt as hot as the fire burning next to us as I anticipated both of their gorgeous cocks filling me up. Finally, I got to the point that I couldn't resist, I straddled his father and aimed his huge cock straight towards my wet pussy. "Enjoy Pop, this girl fucks like a pornstar!" With that being said, I rode every inch of his cock, determined to prove my man right. Damn, he felt good! And he must've felt the same, he started moaning and gripping my ass as he sucked on my titties. I bounced all over his cock while I sucked the shit out of his son's.
It felt amazing to feel that I was being dominated by these two men. The rhythm of one cock ramming my pussy, while the other slid down and back out of my throat made me feel like the biggest whore ever. We started on my knees, then they flipped me onto my back. His father gagged me with his cock and teabagged my face while my boyfriend fucked my asshole and fingered my little cunt. My screams were muffled and blocked by his dad's dick as I squirted all over my boyfriend's cock. Turned on by the sight, they forced me into a riding position over his father and my boyfriend slid his cock into my ass.
It was so tight with both of those hard cocks fighting for space in my body. I could feel them sliding against and pressing so close to each other, both squeezing and groping me as they penetrated my body. It was awkward starting off as the father-son duo tried to get their movements in sync, but after a few minutes, they were reaming my pussy and asshole. They pounded me and pounded me mercilessly, slapping my face, titties, and ass, telling me what a great fucking whore I am. I couldn't stop myself, my whole body shook like an earthquake and I screamed out "OH MY GOD, I'M FUCKING CUMMING! I'M CUMMING!" over and over as my holes contracted around their meat.
They continued fucking me as I had multiple orgasms on their cocks, finally caused both of them to cum. They started stroking me harder and harder as their moans progressively got louder. My boyfriend grabbed my titties as he pumped hot jizz into my pussy while I felt his dad spurt his hot load into my asshole. We brought in Christmas with sweat, moans, and fresh skeet squirting inside of me. I was literally stuffed, hot cum was my Christmas present. I got toasted nut by the open fire, and it felt so good.