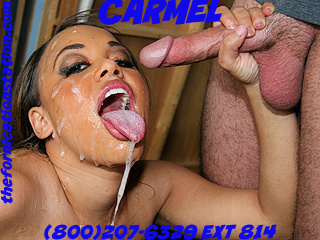 A couple of days ago, I ran across this guy that I'd known from high school. I always had a little crush on him so I stopped him to say hi and flirted a little. We exchanged phone numbers and started texting back and forth a few hours later. The conversation started off casual, and out of nowhere he said all of these sexual things he wanted to do to me. Tying me up, eating my ass, spanking me, pissing on me, etc. Little did he know, he was talking my language.
I invited him over that same night and he accepted the invitation. He came over and I offered him something to eat and drink. As he declined my offer, he walked up behind me and whispered in my ear, "The only thing I want to eat is your pussy!" I paused. His hands explored my body before making it in between my legs and he started rubbing on my pussy through my thong. Before I knew it, he flipped me over his shoulder, threw me on the couch, pulled my thong off and started eating my pussy and ass. I'd never had a man make me feel this way. After I rode the shit out of his face, I was ready to ride the rest of his. He pulled his cock out and I sucked it before I rode that, too. He must've been excited already because he came inside of me after a few minutes.
When I went into the bathroom to clean up, he followed me, put me on the counter and started eating my pussy again. Round two! The way his tongue flicked my clit while his fingers fucked my pussy, I couldn't handle it, I squirted all over his face. "Mmmmm Yes! You little fucking whore!" he exclaimed as he pulled me off the counter, bent me over and shoved his huge cock into my little asshole. I'd never been fucked back door before, it was like a different type of ecstasy. My eyes were rolled in the back of my head and my mouth hung open, I was about to cum all over his cock. "You like that, bitch?" he asked while slapping my face and pounding my ass. "Yes! YES!", were the only words I could scream.
He fucked me for HOURS! He gave me the royal whore treatment. Trained me how to suck and take cock like the filthy slut I am. By the end of the night, he had me roped up, covered in his cum and begging for more! He called me again today and told me to be on my knees ready when he got here, I'll be a good whore and do just that.