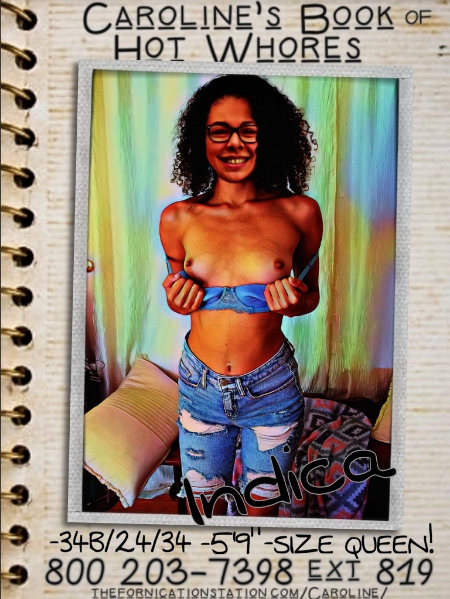 The second I found out that there was a black girl phone sex operator living in my trailer park, I knew I had to get her on my team of hot and horny whores to help her elevate her game and my bank account!  I figured since she was already making guys cum over a phone line that it wouldn't be too big of a step for her to get their goop in real life.  Boy, was I right!  That ebony beauty took to taking the biggest, fattest boners in every one of her tight and creamy chocolate holes like a fuck duck takes to dick water!  Now that sweet and chill Indica is in my lineup of lusty hookers, there's no size limit for any of my cunt craving tricks.
Every cunt is different.  Some stay so tight that they feel like they'll cut the circulation off in anything that goes inside of them and some are just built for opening up wide and taking oversized insertions.  That's where Indica comes in.  My whores can be picky, they won't touch any fuck sticks that seem like they might do some permanent damage to their sweet pussies.  Apparently Indica has never met a cock that's too big for her or taken a hole stretching pounding that her sable snatch can't bounce back from.  And don't even get me started on her perfect ass!
Her bubble butt sticks out just right, you can tell it loves to take on the most enormous man meat it can find.  The way her cheeks stick out and almost make a perfectly round shelf for guys to grab and play with while they rail away on her turd rim makes me wish I had half the ass that she does.  My hole might be just as adept at handling the fattest fuck hogs that root their way inside of it, but my cheeks don't look anywhere near as enticing and inviting as sweet little Indica's.
If you have a dick that scares away most females you try to fuck or you just want to stretch out a whore's hot holes as far as you can, give my youngest little black bitch a try.  She'll take your mega-meat as long and as deep as you'd like and will have a bright, shiny smile on her face the whole time she does it.  For a super size queen like young and fresh Indica, the bigger the bone, the better the fuck.  Just be sure you cover her in cum before you go.  She told me that, since she always stuffed her own holes full on her calls, it's the only thing she was missing when she was just a phone sex operator.