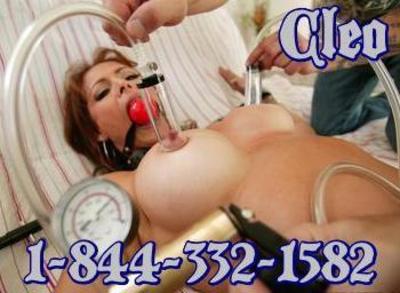 When he asked if I was into kinky sex I had no idea. I love kinky sex, in fact the kinkier the better. Well you know that saying, be careful what you wish for? Yeah…
When he broke out the ropes and cuffs for bondage my cunt began to throb and get nice and juicy. Then came the ball gag and my nipples got nice and hard.
I was secured to the bed nicely and couldn't move or cry out. Drool was leaking out of the sides of my mouth and moans were all I could produce. I watched him take out some ice cubes and as he rubbed them on my nipples and the cool melting water dripped down my sides I felt my nipples became stiffer then they had been in a long time and my cunt was begging to be touched.
Then I saw the machine he brought out. What the fuck was that for? I was a bundle of nerves, excitement, confusion and fear were mingling into one raw emotion and I had no escape!
When he placed the tubes over my nipples and the suction began the feeling was so intense that my cunt squirted cum all over the place.
Finally he shoved his dick in my sloppy wet pussy and filled me up with his spunk!