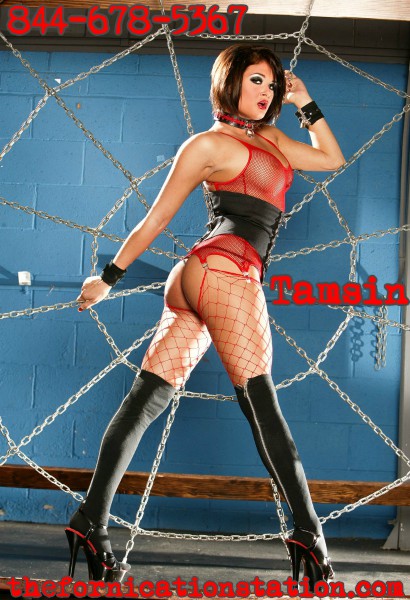 No taboo phone sex allows us to tell each other all of our dirty kinky secrets about our sex lives…..I have always been extreme in everything that I do. So when you told me you wanted to be my pet, I was on board. Me being me did not want something warm and fuzzy. I wanted to turn you into my prey. I would be the black widow and you would be an annoying little pest that I caught in my web. We started out our session by you worshiping at my feet.
I allowed you the pleasure of kissing all the way up my leg until you reached my hot wet pussy. I made you beg to get to lick my hot juicy cunt. The more you licked the harder your cock became. I slapped your hand away when you tried to touch your hard throbbing cock. I made you suck on my clit until I came in your mouth. I even washed it all down with some warm golden piss. Then I chained you to my web.
I whipped your ass a few times with my cat o' nine tails. I ran my bright red finger nails down your back. Scratching your back as I went. Then I put on my 9 inch strap-on. I rubbed it against your tight puckered ass. I teased you that I was not going to use any lube as I pressed the dry head of my strap-on against your ass. You begged Mistress Tamsin for some lube. Alright, I said though I don't know how much you are going to enjoy the lube.
It seems the only one I have on hand is Wet Stuff Peppermint Tingling Lubricant. I squirt some of it up you ass as I apply some more to my big thick strap-on. You start to complain that you ass is burning as I shove my strap-on up your ass. You haven't felt anything yet. You better get ready for the hardcore anal sex that I have in store for you. I pound your ass so hard rubbing my thick strap-on against your P-spot. I use my strap-on to milk the cum from your balls. You blew your load of hot jizz with out ever touching your hard throbbing cock.